Part Five: Scientific Corroboration
作者:Xu Rongxiang
出版社:CHINA SOCIAL SCIENCES PRESS
发行日期:2009 September
American Patents
Method and composition for repairing and promoting regeneration of mucosal tissue in the gastrointestinal tract (with patent No. of 6,685, 971)
Composition and method for culturing potential regenerative cells and functional tissue- organs in vitro (with patent No. of 6, 972, 195)
Physiological tissue repair and functional organ regeneration by cultivation of regenerative stem cells in vivo and in situ (with patent No. of 6, 991, 813)


1-1) Scientific corroboration of in vitro cell cloning gastrointestinal mucosa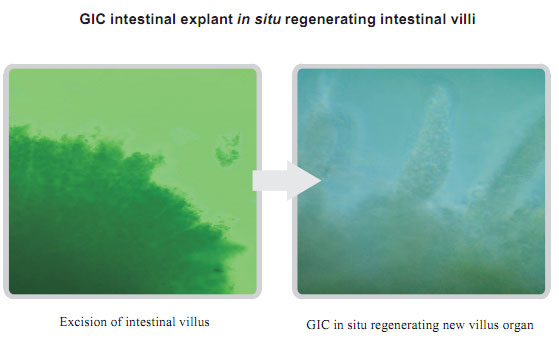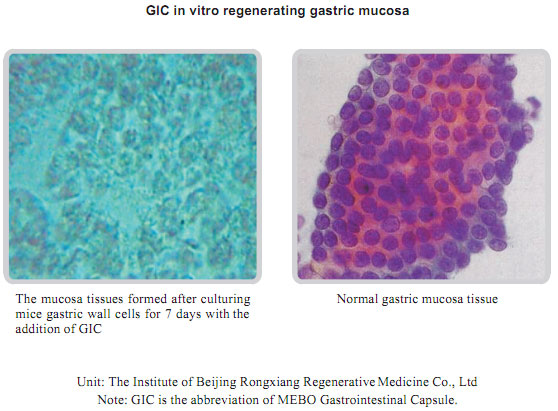 1-2) Scientific corroboration of in vitro cell cloning gastrointestinal mucosa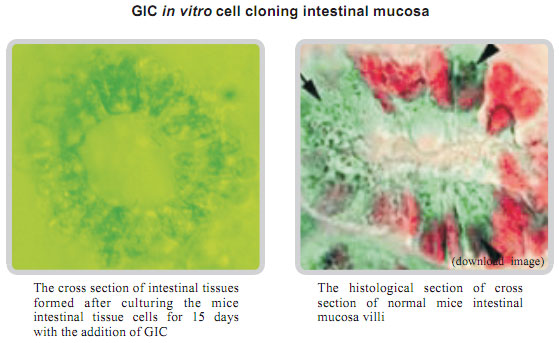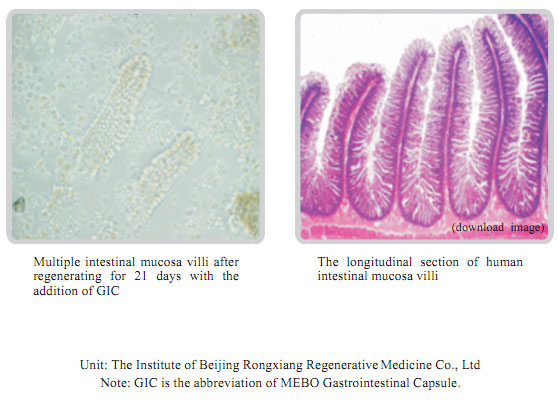 2-1) Clinical corroboration of in situ stem cell regenerating & recovering gastrointestinal mucosa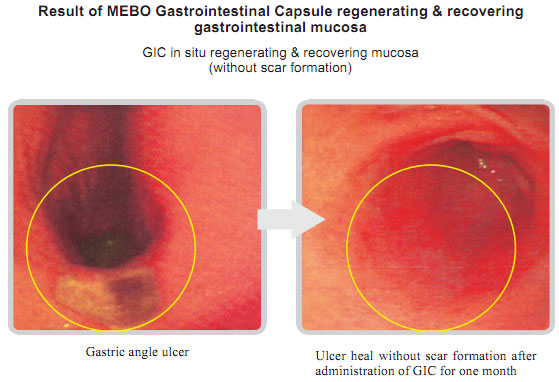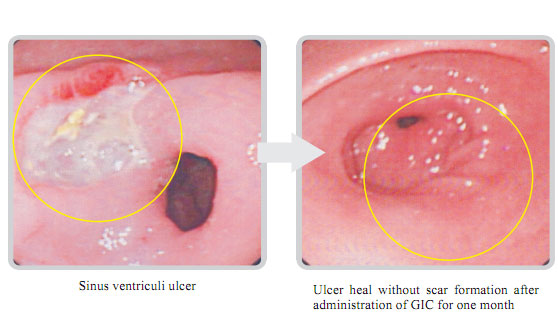 2-2) Clinical corroboration of in situ stem cell regenerating & recovering gastrointestinal mucosa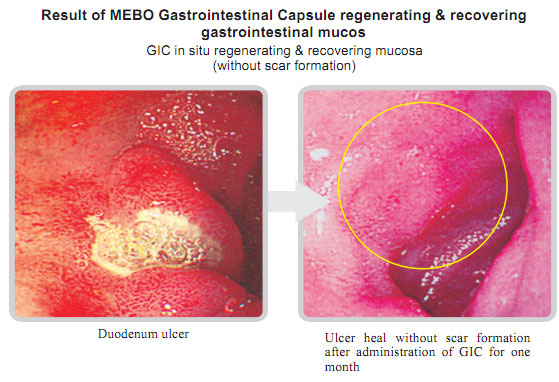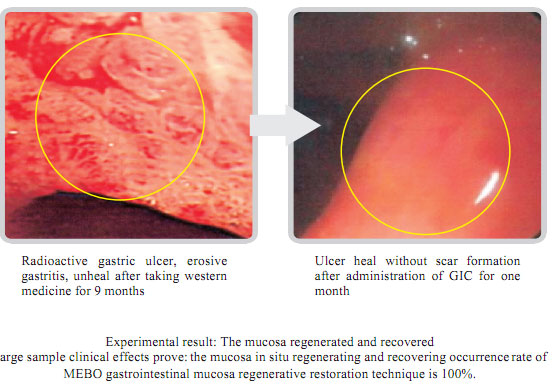 2-3) Clinical corroboration of in situ stem cell regenerating & recovering gastrointestinal mucosa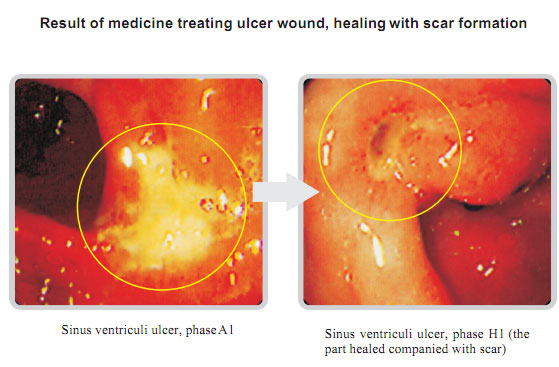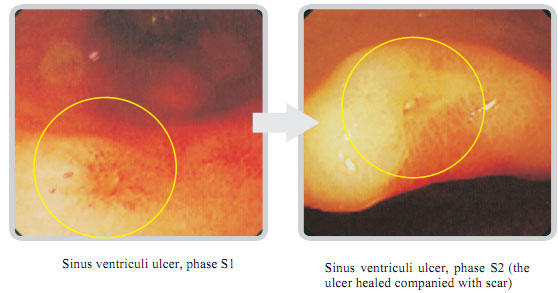 2-4) Clinical corroboration of in situ stem cell regenerating & recovering gastrointestinal mucosa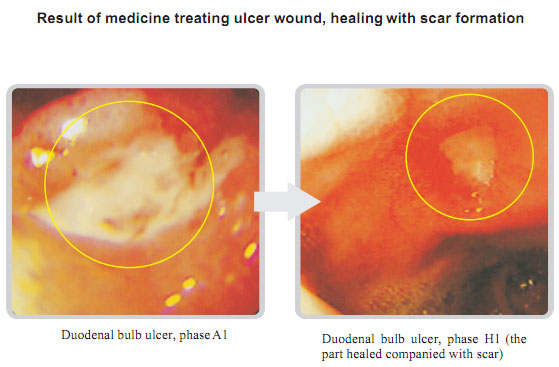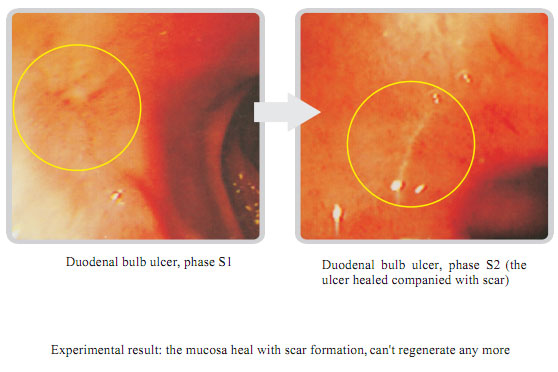 3-1) Scientific corroboration of the protection function of MEBO GIC for mucosa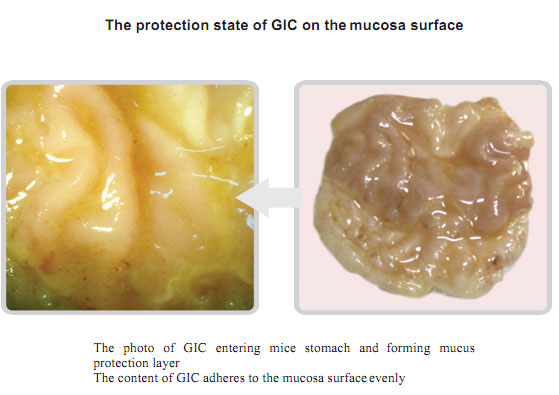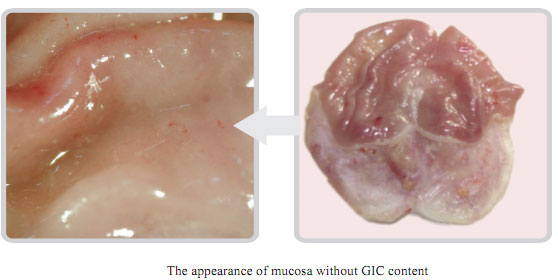 3-2) Scientific corroboration of the protection function of MEBO GIC for mucosa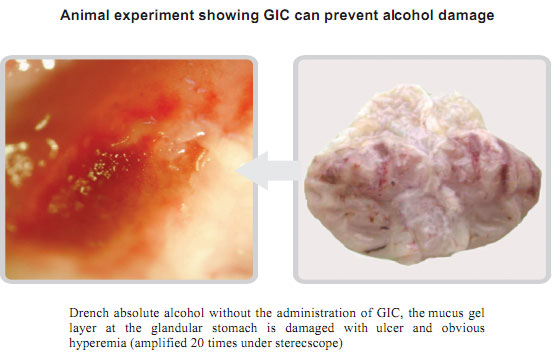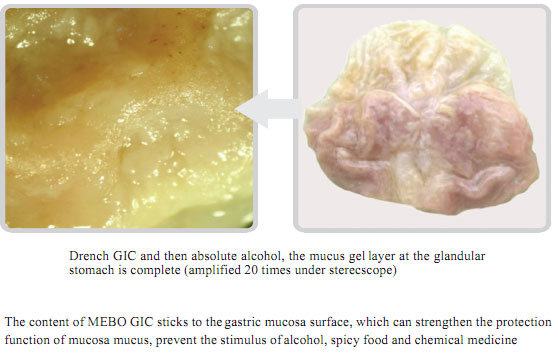 4-1) Scientific corroboration of GIC for preventing mucosa damage, safeguarding gastrointestinal function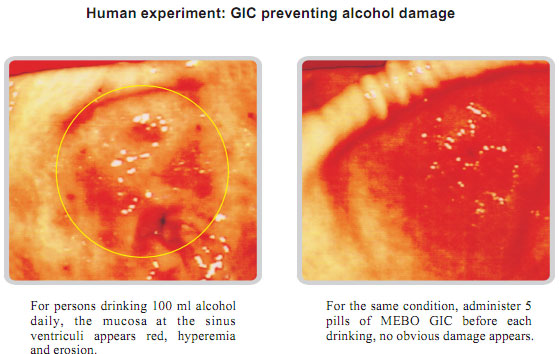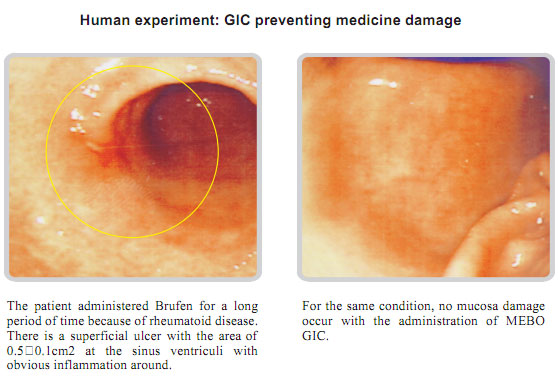 4-2) Scientific corroboration of GIC for preventing mucosa damage, safeguarding gastrointestinal function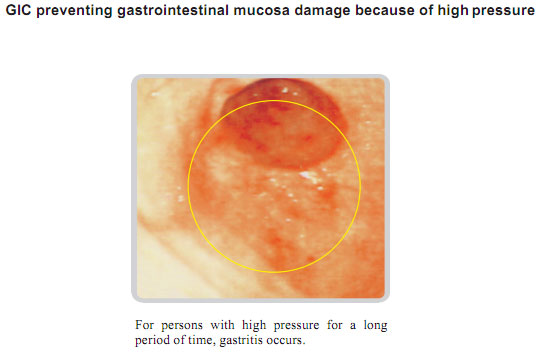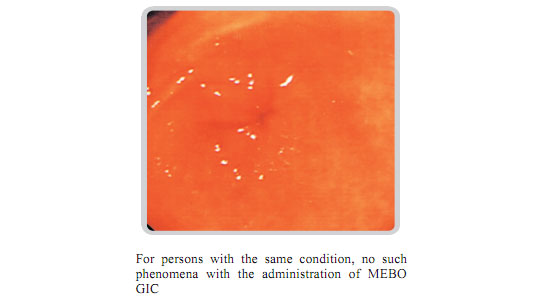 0STRONG>
5) The healthcare effect of MEBO GIC on gastrointestinal mucosa

After the components of MEBO GIC enter the gastrointestinal tract, the components will mix with mucus and form more solid protection layer to prevent the stimulus by food, gastric acid and other destroying factors. If injury occurs, the components will search it immediately and adheres to the damaged surface because of their high affinity. Then a protection layer will form to prevent secondary damage. So this product can not only protect gastrointestinal mucosa from damage, but also assure the normal digestion and absorption.
GIC can prevent gastrointestinal mucosa from the damage of the habit disturbance such as: drinking, smoking, spicy and cold food.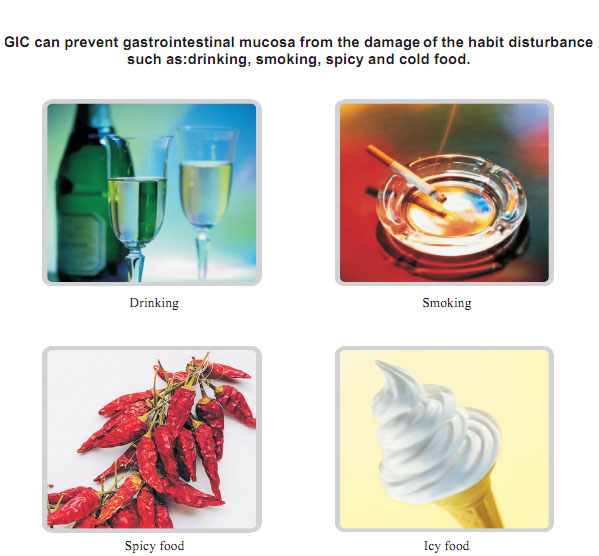 6-1) Scientific corroboration of the anti-aging function of MEBO GIC from animal experiments

The experimental animal: 10-month-old male albino rats with the average life of 480 days. The experiment lasted for 526 days. The experiment proves: MEBO Gastrointestinal Regenerative Restoration Technique (including MEBO GIC) can maintain the vigorous life of the gastrointestinal mucosa, the related gland tissues, muscular layer of the smooth muscle. However, animals without the administration of GIC show: the atrophy of gastrointestinal mucosa, obvious aging, obviously decreased numbers of glands, thinning of muscular layer of smooth muscle.
The average life of albino rats was 480 days. The experimental time was twice longer than that. The rats in the experimental group took MEBO GIC showed the vigorous state of the gastrointestinal mucosa, the intestinal gland tissues, and muscular layer with no aging or degeneration signs observed.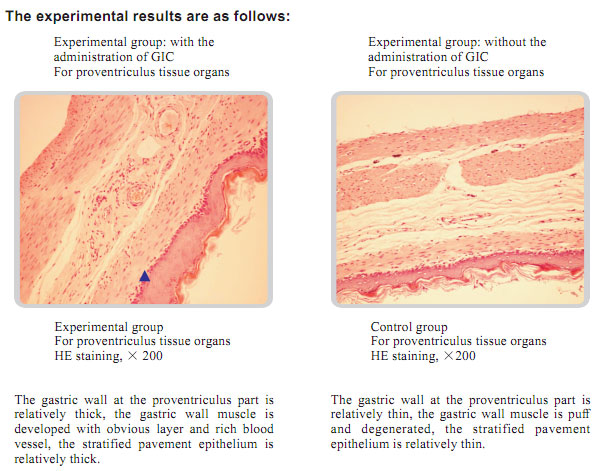 6-2) Scientific corroboration of the anti-aging function of MEBO GIC from animal experiments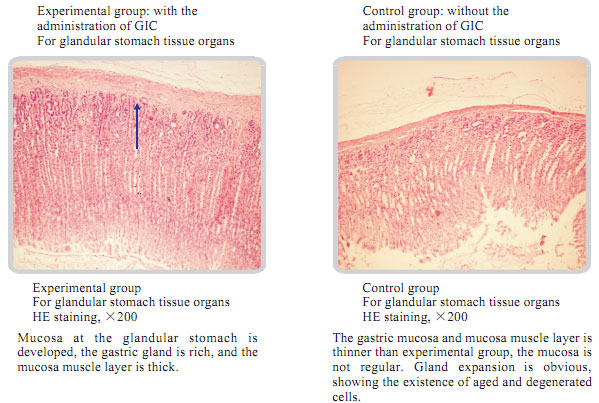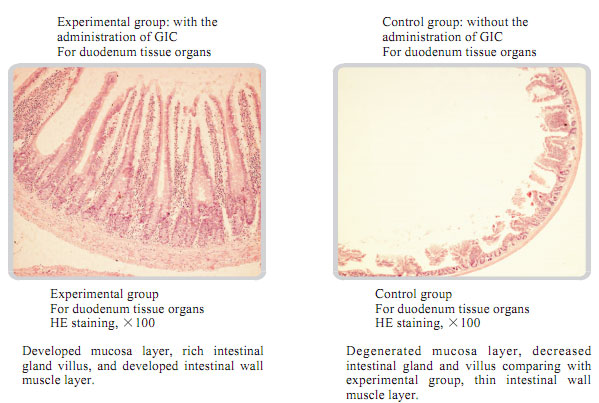 6-3) Scientific corroboration of the anti-aging function of MEBO GIC from animal experiments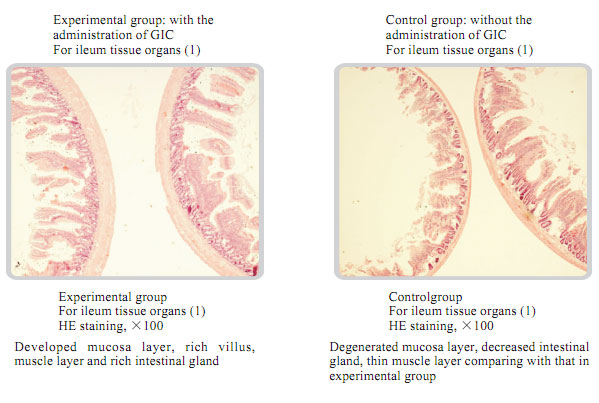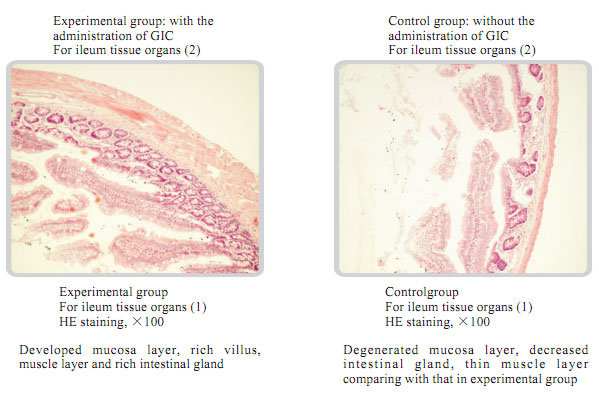 6-4) Scientific corroboration of the anti-aging function of MEBO GIC from animal experiments